We are 4x4 & off-road breakers / dismantlers.
Equicar 4x4 are breakers of 4x4 & Off Road vehicles. We specialise in later models (post 1990 or so); we break most Land Rover, Toyota, Nissan, Mitsubishi, Isuzu, Daihatsu, Ford, Suzuki, Jeep, Ssangyong, Daewoo, Hyundai and Kia off-road 4x4 vehicles. We stock a large range of parts in our warehouse (image below) in addition to the vehicles currently breaking which you can see here.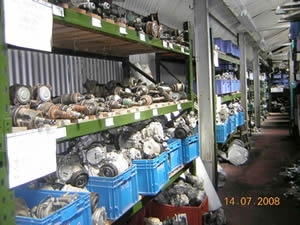 We are one of the biggest breakers in the UK and if we may say so ourselves, one of the best. Our company has been breaking 4x4 Off road vehicles for many years and we believe that we are the leading specialists in breaking 4x4 & Off Road vehicles.
If you have a 4x4 vehicle which you would like to lose for any reason, give us a call on the number below and we will make an offer. All vehicles purchased this way are depolluted via our depollution rig (image below). We are a fully licenced Authorised Treatment Facility for End-of-Life Vehicles, and we will also contact the DVLA to advise them that the car is no more. A Certificate of Destruction will then be issued for your records to show that you are no longer the registered keeper for the vehicle.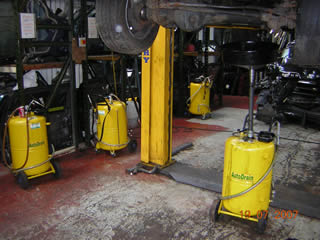 If you are unsure if we are breaking the model of vehicle which you require parts for, then please call us on 01902 882 883 and we will let you know exactly what we are breaking at the time. If you already know we have the model in stock for which you require parts, feel free to fill in our online enquiry form at this link and we will get back to you with availabiility and prices.
We also stock a range of New Take-Off parts for Land Rovers, although these are very popular and are not in stock for long! For those not 'in the know', New Take-Off means the part is second-hand, but has been removed from a new vehicle almost at the time of purchase. Land Rover Defenders are particularly popular for conversion to emergency response vehicles, or many other applications, so we are sometimes able to pick up new take-off panels in this way. Pictured below are some new take-off wheels we got into stock earlier this year.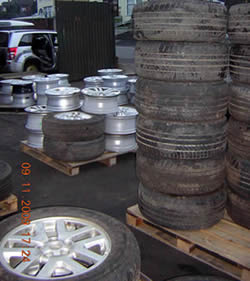 We are one of few breakers that pride ourselves on our customer service, before and after sale. We realise that there may be a few options to get second-hand parts, but we are sure our service puts us head and shoulders above the competition. We are in a good position to see what our customers want from vehicle breakers and we try in everyway to support their needs.
Our experience in the industry and specialisation in 4x4 and Off Road vehicles means we have the expertise to advise on exactly which part you may require. There are often subtle differences between models or between the same model on different years, and we do our best to ensure we have the knowledge required to ensure we get the right part first time.
If you have any suggestions or comments about this website or reflections on customer service you have received at other breakers or dismantlers, then please email us on: al@equicar.co.uk.
If you are looking for parts or would like to enquire about our stock, please e-mail us on: sales@equicar.co.uk.